The Top Purveyors
The savvy partners of Gaines McHale, E.J. Grant and now French Accents have
established themselves as the dominant retailers on Baltimore's antiques scene
By Petey O'Donnell
DANIEL GARFINK AND DANETTA CIGNARALE:
PRECOCIOUS NEWCOMERS WITH OLD-WORLD CONNECTIONS
As I reconnoiter just north of "The Avenue" in Hampden, in search of the precocious newcomer to the Baltimore antiques scene, the 2 1/2-year-old French Accents, it turns out that the co-owner Danetta Cignarale is doing some reconnaissance of her own -- in France.
On her third European trip this year, she and French partner Laurent Breuillac are armed with the wish lists of some 20 American clients, as well as one for the company itself. And they're doing business the new-fashioned way. With a digital camera, she and Breuillac take the image of the perfect find for a client, a Louis XV cherry buffet, say, then scan the image into a laptop and e-mail it back to the client -- or to partner no.3 , Daniel Garfink.
Yes, someone has to stay home and mind the store, and today it's Garfink. Up three flights of stairs at 3600 Roland Ave., I find the adrenalized pinstriped entrepreneur ready to roll. I barely shake his hand before he's got me running downstairs after him, first to admire an Austrian Biedermeier vitrine, a display cabinet fashioned out of rosewood, stored for the moment in the landlord's second-floor office; and then, outside in the hall, an $8,900 Louis XV enfilade with elm sides and walnut burl front. As the tour continues through the hallways and landings of the building, I realize that the modest 700-square-foot store upstairs must be literally bursting at the seams with fine period antiques. Garfink introduces each piece like a proud papa. "Look at this," he says over and over. "It's real. It's just phenomenal."
This is almost all period furniture, he explains, pieces made during the actual reign of the kings or emperors that define the styles. For example, a Louis XVI commode was actually made in the late 18th century, as opposed to a Louis XVI-style piece.
"We're trying to maintain the artistic and historical integrity of this fine art," Garfink tells me, as our treasure hunt climaxes in a first-floor hallway at a magnificent, 7 1/2-foot-tall, cherry Louis XV armoire from Rennes, capital of Brittany. "Most armoires are flat across the top. Then there are the very special ones, the ones that are more elegant." He caresses the crowning curves of this $10,000 piece made more than 200 years ago. "This curve is called chapeau gendarme, after the curved bonnet of the French police."
We reach the top of the stairs again, and Garfink can't resist crowing about a French provincial canapé', or bench, sitting outside the showroom door. "We look for pieces that have provenance," he explains. "This came from the Grand Duke of Baden-Baden. It has royal provenance."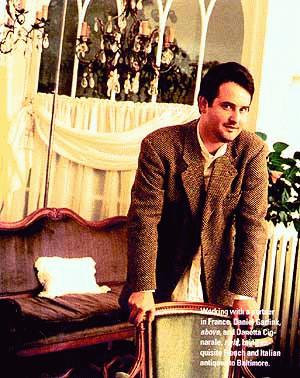 GARFINK IS A DASHING FIGURE. HIS BLUE-BLACK HAIR IS BRUSHED straight back from a face that is handsome yet boyish, even as a 5 o'clock shadow begins to show at 10:30 a.m.. He's also a romantic, and as he tells the story of French Accents' founding, it's clear that he followed his heart into antiques. But not without a practical detour.
"I'm a lawyer," he begins almost sheepishly. A philosophy major at Franklin and Marshall College in Lancaster, Pa., Garfink moved to Montreal with his girlfriend after graduation in 1991. His love for French culture and language blossomed, even while his love for the girlfriend eventually waned. Still at loose ends about a profession, he followed the lead of several family members and studied law. But after two years of study at the University of Baltimore, and a summer internship at a prominent Baltimore law firm, he announced a change of plans: "I'm going to live with a French family and study French at the Sorbonne," he told his stunned parents, agreeing to finish the law degree the following year.
It was on a Paris subway that he serendipitously met the man who would become his French partner in the antiques business. After striking up a conversation, Garfink invited Laurent Breuillac to dinner the following Sunday. He learned that the Breuillac family's generations-old antiques business was foundering in the then-recessed European economy. The plight of his new friend brought to mind a friend back in Baltimore, a young woman Garfink knew to be a "connoisseur of fine things."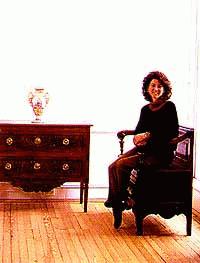 A fifth-generation Italian, Danetta Cignarale had grown up with a mother mad for antiques, tagging along behind her at antiques shows and historic home tours. Later, she traveled extensively in Europe and took courses in fine art and art history at the University of Maryland and Maryland Institute, College of Art. Never mind that she'd embarked on a nursing degree, had a child, and opened a shoe store with her former husband in the intervening years. When Garfink called her from France, Cignarale was sufficiently intrigued to fly over three days later. And once she'd seen the inventory at the Breuillac family home and warehouse in Cavaillon, she was hooked.
"You can't believe what these people have!" she told Garfink of the 18th-and 19th-century pieces there. "This is a gold mine." She immediately began talking about a partnership. Six months later, while Daniel was finishing law school and preparing for the bar, the company was formed.
Their first container held 19 pieces. The young entrepreneurs tried to woo the design community to the grand opening on June 6 and 7, 1995, but were disappointed with the turnout. "Baltimore is an establishment town," rues Garfink. "It's also a tough market to break into and for what we sell."
Relying on their instincts and unflagging work ethic, they began to place furniture all over Baltimore, including down the Avenue at S'getti Gourmet, where a baroque console is currently on display, and at Palais Royale linens boutique in Green Spring Station. Tapping into another market, they forged a relationship with the Miller-Richardson Galleries in Occoquan and Old Town, Alexandria, Va., which showcases their furniture along with fine art, high-end accessories and antiquities.
They also defined their roles: Cignarale would handle client matters, and Garfink, fluent in French as well as the law, would take on legal issues and translation. Being able to speak, read and write the language has been "crucial to the success of the business," he says. Even more crucial has been their European sources, including an informal partnership with two Italians who had been working for Breuillac's father for 30 years.
DURING THEIR SECOND YEAR IN BUSINESS, Garfink became convinced that going online was the key to the future. So 15 months ago, they hired a firm to design a Web page. Now the Internet brings in more than 20 percent of their new clients.
"People love to cybershop," Cignarale tells me in a sunny voice several days later via telephone. At an associate's home near Strasbourg, she is taking a break from e-mailing images of her most recent finds.
"For a physician in Annapolis, I'm looking for a late 19th-century, Napoleon III, repousse' mirror -- about 5 feet tall and 3 feet 6 inches wide -- to hang over her mantel," she explains. "I'm also looking for a semi-formal Louis XVI dining room table for her, with a little bit of bronze, and gilt chairs to go with it. And a pair of petit chevets for either side of her bed.
"An Owings Mills client is also looking for a dining room table -- a Venetian or Louis XV carved piece -- and an enfilade," she continues. "And I have a client in Washington, D.C., who is looking for a bench, something rustic, like an old church piece."
She continues ticking down the list: provincial commodes for clients in Baltimore and Potomac; a bedroom set for a client in Alexandria; art nouveau pieces for one in Westminster.
When budget, style, needs and e-mail image coincide, the client hands over a 50 percent deposit to get the piece shipped to Baltimore and onto a company truck. If the piece is not up to expectations, Garfink and Cignarale continue the search for the perfect piece, and apply the deposit toward it.
"They are doing the two sides of the business very well," says Laura Richardson, one of the owners of Richardson-Miller Galleries. "They have a beautiful inventory. And they are working very hard to create relationships with clients and designers build on good service. They have the proper connections and methodology to succeed."
"We've exceeded all our expectations in two years," says Garfink. "Where this thing has shifted is that we're concentrating on the needs of a particular client, usually without a designer. We've been able to attract a very high-profile, blue-chip clientele, as far south as Palm Beach and as far north as Boston, who say, "We know you guys are a world-class resource; go find this for us."
---
The above excerpt (reprinted with permission) is from an article published in the November/December 1997 edition of "Style" Magazine: