French Accents in Gods and Gardar Magazine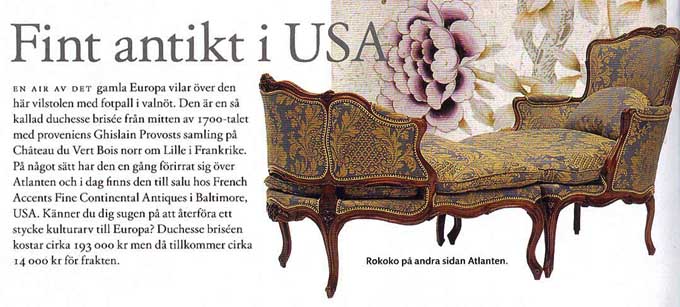 The article translates:


Fine Antiques in America
THERE IS AN AIR of ancient European repose over this reclining chair with footstool in walnut. This is a duchesse brisee from the mid-1700s with provenance from Collection de M. Ghislain Prouvost, Château du Vert Bois ("Castle of the Green Forest") north of Île-de-France. All at once, it was whisked across the Atlantic and today you will find it at French Accents Fine Continental Antiques in Baltimore, America. Feel yourself drawn to restore a fragment of culture to Europe? This duchesse brisee costs about 193,000 kr, plus 14,000 kr for shipping.


---
This article was published in Gods & Gardar ("Mansions & Castles") Magazine and is reprinted here with permission of the publisher.