Antique Beds
19th century furniture makers (known as "ebenistes" in France) largely drew their inspiration from the styles of previous centuries (occasionally even combining styles from several periods in a single piece). In fact, most antique beds that can be acquired for use today are late 19th century revivals of earlier styles. It is this combination of classical aesthetics and the larger size and craftsmanship of the 19th century that makes 19th century beds so valuable. These beds are highly sought-after and are becoming increasingly difficult to find.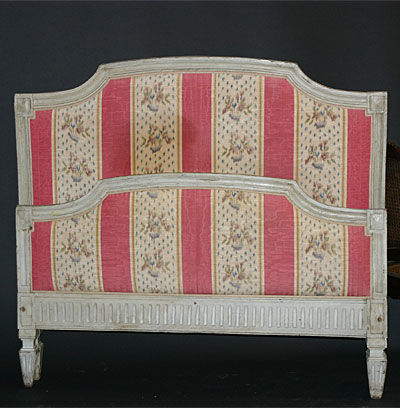 Generally, 18th century beds were not much larger than today's twin-sized beds. Most 19th century French and Italian beds will accommodate a double mattress. Occasionally, one finds a 19th century bed wide enough to be considered queen-size, but, most likely, the side rails will need to be lengthened. Most of the larger, more luxurious antique beds were made for royalty or members of the aristocracy, and most of those which remain are in museums. Buyers presented with 18th century king-size beds should be aware that, typically, even members of the royalty did not have beds of this grandeur. It was not until the 20th century that king-size beds first appeared.
Louis XVI & Directoire Style Beds
19th century Louis XVI and Directoire style beds were made in numerous woods and paint finishes, natural walnut and painted beech being the most popular. Furniture from the Louis XVI period was marked by rectolinear lines and architectural ornament. These beds were adorned with floral garlands, pinecones, draped ribbons, guilloche (roman coin motif) carved ornament, scrolling waves, and acanthus leaves, and the fluted legs and columns characteristic of classical forms inspired by Greek and Roman ruins. Sometimes, they were crafted in a combination of carved walnut and cane (see photo above) or carved natural or painted wood with upholstered head and foot boards after the 18th century lit de repos. Ornamentation on finer pieces was done in carved wood or in bronze.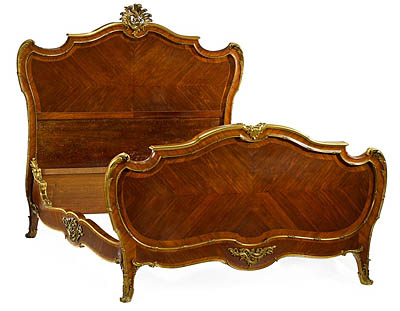 More formal beds of this genre (typically Parisian beds) were produced using exotic veneers, sometimes with parquetry (contrasting inlay in geometric patterns) or even painted and parcel guilded. During the last part of the Louis XVI era, and again in the last quarter of the 19th century, plum pudding mahogany imported from Africa (known as "acajou mouchete") was seen on the very finest pieces.
Louis XV Style Beds
The major characteristic of the Louis XV style was the "rocaille" work, also known as "Rococo." This elaborate ornamentation incorporated shells, flowers, and other natural forms. The decorative elements associated with Louis XV beds and furniture included marquetry (contrasting inlay in floral or animal motifs) in floral designs, instruments, birds and insects. Heavy bronze mounts and floral carvings, especially roses, were applied in curvolinear forms. The cabriole leg, which curved outward at the knee and inward towards the foot in an "S" shape was born during this period.
19th century Louis XV style beds were fabricated in carved walnut, rosewood, and numerous veneers with marquetry details or carved frames with upholstered head and footboards. Many of the footboards were constructed in the "corbet" (curved) form. As with the Louis XVI beds, Louis XV formal beds were finished in bright colored paints with parcel guilding or with exotic veneers.
We at French Accents Antiques pride ourselves as purveyors of 19th century queen-sized beds in the Louis XV, Louis XVI, Empire, Directoire, and Renaissance Styles. We invite you to browse our selection of antique beds and other singular pieces in our online gallery. If you have any questions, or special requests please do not hesitate to contact us!