Etienne Avril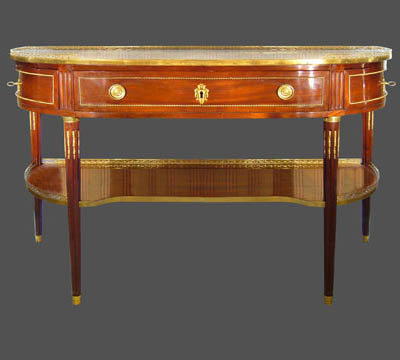 Etienne Avril was a French master ébéniste (cabinetmaker) who worked during the reign of Louis XVI. He achieved the rank of master in 1774 and worked at the Rue Charenton. He was sometimes known as "Avril the Elder" to distinguish him from his brother, Pierre, who was also an ébéniste. He was a respected member of the furniture trade and gained renown as a supplier to Marie Antoinette, helping her refurnish the Chateau de Saint Cloud.
He worked in the strict Neoclassical style, which sought to emulate the aesthetics of ancient Roman and Greek furniture. As with other ébénistes of that style, he eschewed flowers and knots of ribbon, considering them too frivolous and coquettish, and also avoided marquetry (a decorative technique in which different woods are inlaid into the body of a piece to create an image, such as of flowers) because it was not known to the ancients. The furniture he created is evocative of English pieces of the time, being "square, geometrical, with sharp edges, and panels of plain uniform veneer, framed in very narrow moldings of gilt bronze."
Shortly before the French Revolution, he left the business he had built at Rue Charenton. Historical sources differ as to whether he closed the shop or passed it to his brother to continue, but they agree that thereafter he specialized in trading furniture from a store in nearby Porte Saint-Antoine.
Sources
Litchfield, Frederick. Illustrated History of Furniture from the earliest to the present time. Truslove & Henson Limited. London, 1903.
"Etienne Avril" http://www.latourcamoufle.com/artistes-biographie/etienne-avril/ Accessed April 30, 2011.
De Felicia, Roger. French Furniture vol. 4 - Louis XVI and the Empire.
http://www.internationalauctioneers.com/#/lot/show/666867/lot/list/3320/
Stone, Anne. Antique Furniture: Baroque, Rococo, Neoclassical