Very fine, Louis XV style, kingwood amaranth and gilt-bronze mounted commode



---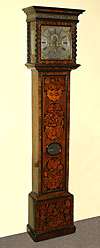 William and Mary, floral marquetry inlaid, tall case clock



---



Very fine, Italian, Renaissance period cassone



---


French, Provençal, Louis XV style mangadou (garde manger)



---



Fine French Empire style bronze d'ore and crystal chandelier



---


Set of six Venetian, Louis XV style, tall-back dining chairs
AN INTERNATIONAL NETWORK
Working directly with our network of European sources, we are able to acquire distinctive antiques and accessories and take personal pride in our ability to quickly respond to and satisfy requests for exceptional and unique pieces; we can save you and your clients hours of painstaking work searching for a desired item. In addition to the antiques we are able to locate through our international network, we maintain a diverse collection of European treasures in our inventory and offer worldwide shipping.
A TOUR DE FORCE
of Periods and Styles
Our knowledge, expertise, and direct access to singular European antiques provides designers, decorators, architects, contractors, and collectors with a broad range of stylish and tasteful European pieces. Discover antiques that illuminate a tour de force of periods and styles from the fanciful and exquisite classical spirit of Louis XVI to the symmetrical precision of Napoleon's French Empire; from the exuberant, lavish carving of the Italian Baroque to the rich, fine inlaid woods of a 19th century Austrian Biedermeier.
Unparalleled
CRAFTSMANSHIP
Unlike contemporary reproductions, our pieces are authentic, made with brilliant materials and rare woods, displaying excellent craftsmanship that has vanished and remains unparalleled today.
Create a Spectacular
CLASSIC ENVIRONMENT
As expert consultants, we can help you and your clients to create an atmosphere, whether it be formal or elegantly casual, with European flair and beauty. Visit our showroom or our online gallery and delight in discovering original European masterpieces that will inspire you to create a spectacular classic environment that people will admire for years to come. Or, if you prefer, enlist us to fill your specific needs.


Rare, George III period, chair-back settee



---



Set of four fine, German, Belle Époque period painted panels



---



Very fine, Roman, Rococo period console table



---



William IV period, carved mahogany recamier



---



Rare, Provençal, Regence period buffet presentoir a faience



---



Very fine Louis XV gilt bronze mounted kingwood bureau plat and cartonnier



---


Very Fine, French, Louis XV style bed of large dimension